Hi, I'm Iljitsch van Beijnum. These are all posts about IPv6.
Your current connection to the web server is over IPv4, using address 100.25.42.211. Checking your IPv6 address (this requires javascript)...
Last week I recorded a remote guest lecture about IPv6 for the Computer Networks course at the Hochschule Augsburg with Rolf Winter. It's a 63 minute Youtube video, with mostly me talking about IPv6 and Rolf interjecting with questions now and then. Have a look over at Youtube.
And these are my slides.
Permalink
- posted 2020-12-22
These are my slides from my IPv6 address planning presentation at the online RIPE NCC::Educa IPv6-only event.
Permalink
- posted 2020-06-08
Next Monday June 8, 2020, 8 years and 2 days after World IPv6 Launch, the RIPE NCC is organizing a RIPE NCC::Educa online education event about running IPv6-only.

Halfway through the morning (European time) I'll be talking about IPv6 address planning, based on my experiences with IPv6 numbering plans (see my publications).
At the end of the event, I'll be participating in a panel discussion with Nico Schottelius and Veronica McKillop titled "When can we turn off IPv4?"
Go to the RIPE website for more information and to sign up.
posted 2020-06-02
Back in 2006, Bianca Ryan sang Why Couldn't It Be Christmas Every Day?
Turns out when it comes to IPv6 adoption, it is Christmas every day now: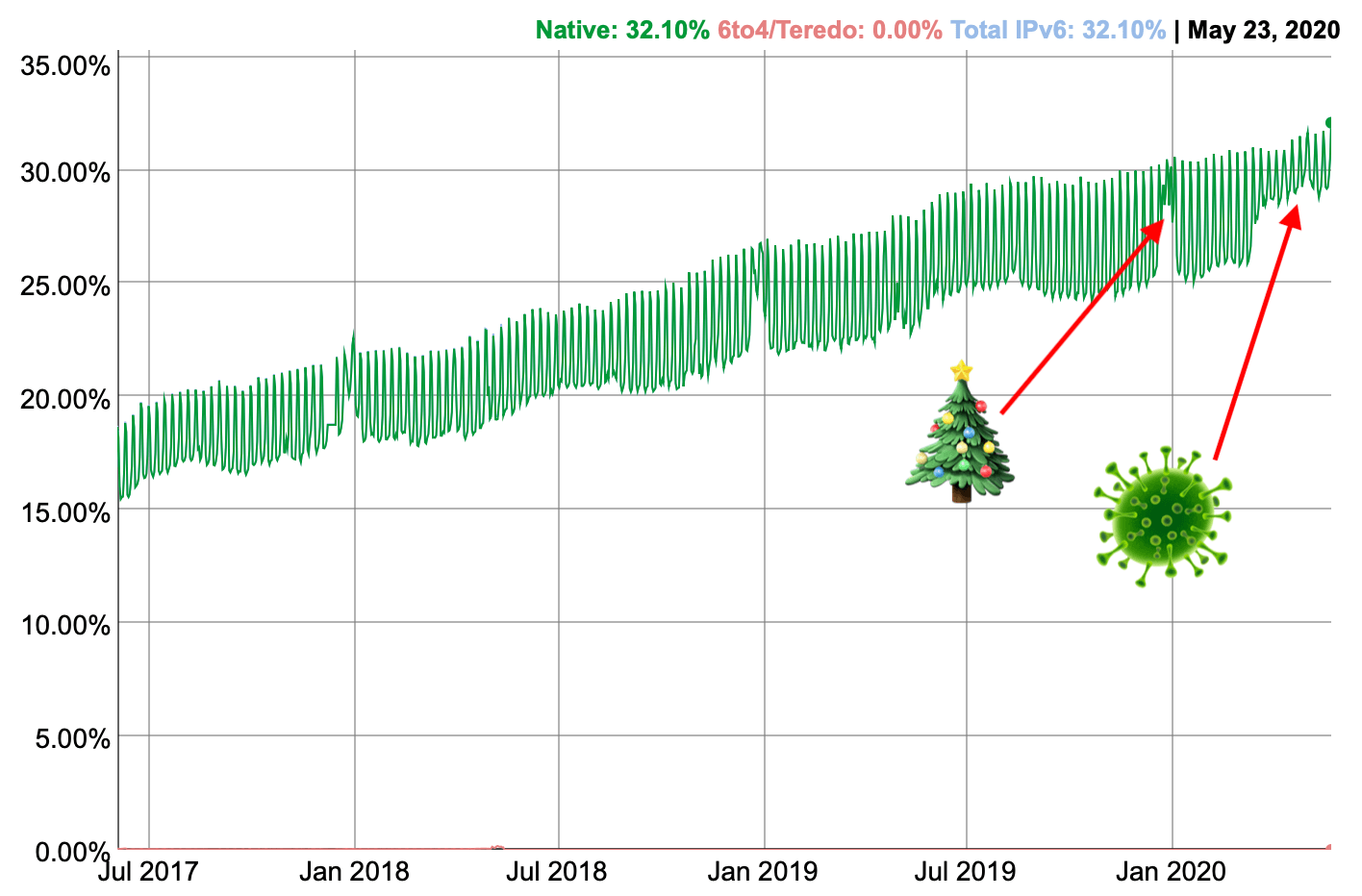 Google's IPv6 statistics show that during the week, IPv6 adoption is about 5% lower than during the weekends, as apparently, more people have IPv6 at home than at work. Around Christmas, the minimum goes up while the maximum stays about the same.
In this regard the COVID-19 lockdown means it's Christmas every day: between December 20 and January 5, IPv6 adoption didn't drop below 27%. Between January 6 and March 13 there was no work day IPv6 adoption reached 28%, but since March 23, work day IPv6 adoption never dipped below 28%.
Permalink
- posted 2020-05-25
We shouldn't gauge the success of IPv6 by looking at how much IPv6 replaces IPv4, but by how much IPv6 complements IPv4. And it's already doing that quite well today by making IPv4aaS (IPv4 as a service) possible. And IPv4aaS will make ISPs require IPv6 when peering with streaming services and other big content providers.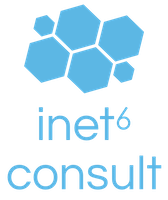 Permalink
- posted 2020-01-23 -
🇳🇱
Nederlandse versie